Share: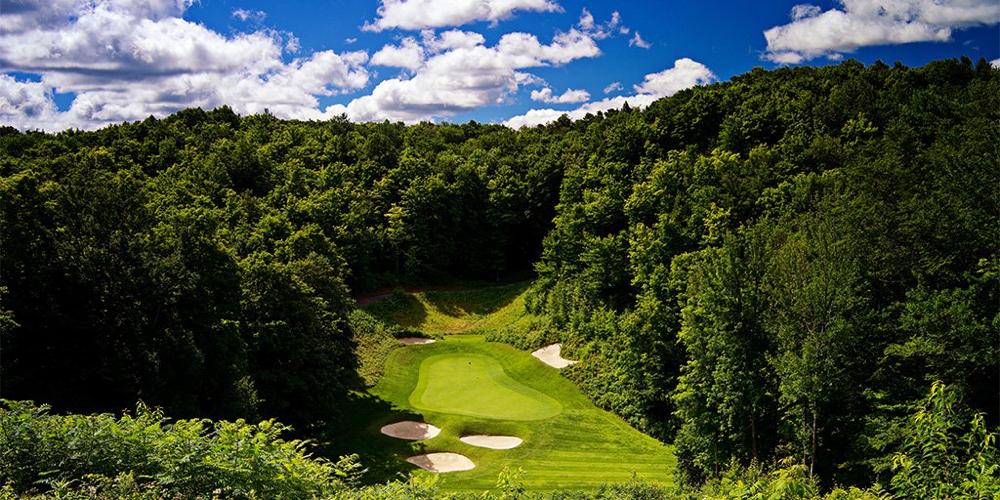 THREETOPS AT TREETOPS
An Experience Unlike Any Other
By Mike May
Michigan's Threetops at Treetops (3962 Wilkinson Road, Gaylord, Michigan; treetops.com; 855-616-2444) packs 18 holes of drama into just 9 holes....and every hole is 'simply' a par three. It's also fair to say that there are not enough superlatives in the English language to provide a fair and accurate description of the beauty, diversity, and the amount of fun to be enjoyed at Michigan's premier par three course -- Threetops at Treetops. This is especially true when you play this course in the fall when the leaves change color and the surrounding forest transforms into a cornucopia of hues. Threetops at Treetops is aptly named because you will literally hit a few tee shots at or above the top of the tree line. If there's ever a time when you want to hit every green in regulation, it's when you play Threetops. And, it's quite possible to record nine greens in regulation if you employ a strategic mindset, correct club selection, and have a little bit of luck.

When you approach the 1st tee, look for the sign which provides background information on what events led to this course being built. The goal was to bring the tradition, excellence, and shot-making excitement of the Par 3 tournament held each April during the Masters tournament at the Augusta National Golf Club and transport it to Threetops. Without a doubt, the idea has been a sterling success. The closing line on the plaque truly says it all, "You are about to have a golf experience available nowhere else in the world." That's true! It was for me and it will be for you.

Designed by well-known golf teacher Rick Smith, every hole has a name and every hole is its own experience at Threetops. And, the scorecard gives you some insight into how you play each hole. Having access to that information is like having a caddy on the scorecard. Only one hole is especially long and that's the 3rd hole - 219 yards from the tips - but it plays downhill. At Threetops, there are three sets of tees - front (978 yards), middle (1,287 yards), and back (1,435 yards). I think that it would be great to play a 27-hole tournament at Threetops where you play nine holes from each of the three tees.

Treasure and cherish every tee shot at Threetops because each one might result in a lifetime memory maker. That was certainly the case for golfing legend Lee Trevino who recorded a hole-in-one at the 7th hole on July 30, 2001 during the 3rd Annual Par 3 Shootout at Threetops. For his ace, Trevino received a check for $1,090,000. To his credit, Trevino donated half of the winnings to St. Jude Children's Hospital in Memphis, Tennessee. You, too, can have a Trevino-like moment, but don't expect a TV camera to record the shot nor have anyone standing by ready to present you with a seven-figure check!

At Threetops, you start at the 1st (Plateau) and finish at the 9th (Upward Home).

Only one hole has a water hazard and that's the 6th (Harry's Way).

The 2nd actually has two different greens. As a result, that hole is appropriately named Double Cross. The course rotates the greens each day.

Two of the holes have exceptionally significant elevation drops -- the 3rd (Devil's Drop) has an elevation change of 145 feet to a downhill green, while the 7th (High Five) has an elevation drop of a mere 90 feet. At the 3rd, the scorecard suggests you drop your club selection by at least four clubs from what you would normally hit any given distance from your tee of choice. A well-struck tee shot at the 3rd will have more hangtime than a Michael Jordan jump shot! It's a 'Holy Cow' moment. You get a bird's-eye view of the 3rd green as you strike your tee shot from just above the top of the trees. The 7th has a two-tiered green which narrows at the back of the green.

And, two of the holes actually present you with uphill tee shots - the 5th (Valley Lo) and the 9th (Upward Home). The 5th will play at least half a club longer when the pin is placed at the back of the two-tiered green.

When you look back at your round at Threetops, you'll quickly realize that the easiest hole is actually the 1st which is a relatively short hole where you simply want to hit the ball short of the pin and to the right, as the right side of the green will feed the ball toward the cup.

Either before or after your round at Threetops, take a few minutes and practice your putting on the nearby Himalayas Putting Green. It's called Himalayas for a good reason. Nothing more needs to be written. Just go try it. I'm sure you will like it. I certainly did!

Are you ready for Threetops at Treetops? You should be. Trust me when I tell you that Threetops at Treetops is ready for you.


Revised: 09/30/2019 - Article Viewed 806 Times - View Golf Course Profile
About: Mike May
---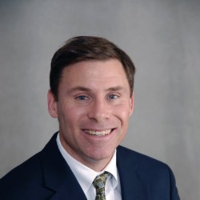 Mike May is a Wellington, Florida-based freelance golf and sportswriter, who is also a 25+ year public relations and communications executive in the sporting goods industry. He is also a veteran high school soccer official, an experienced high school basketball coach, an avid athlete, a part-time personal trainer, and a passionate golfer who is forever in pursuit of Old Man Par. He is a member of the Golf Writers Association of America.
---
More Articles by Mike May